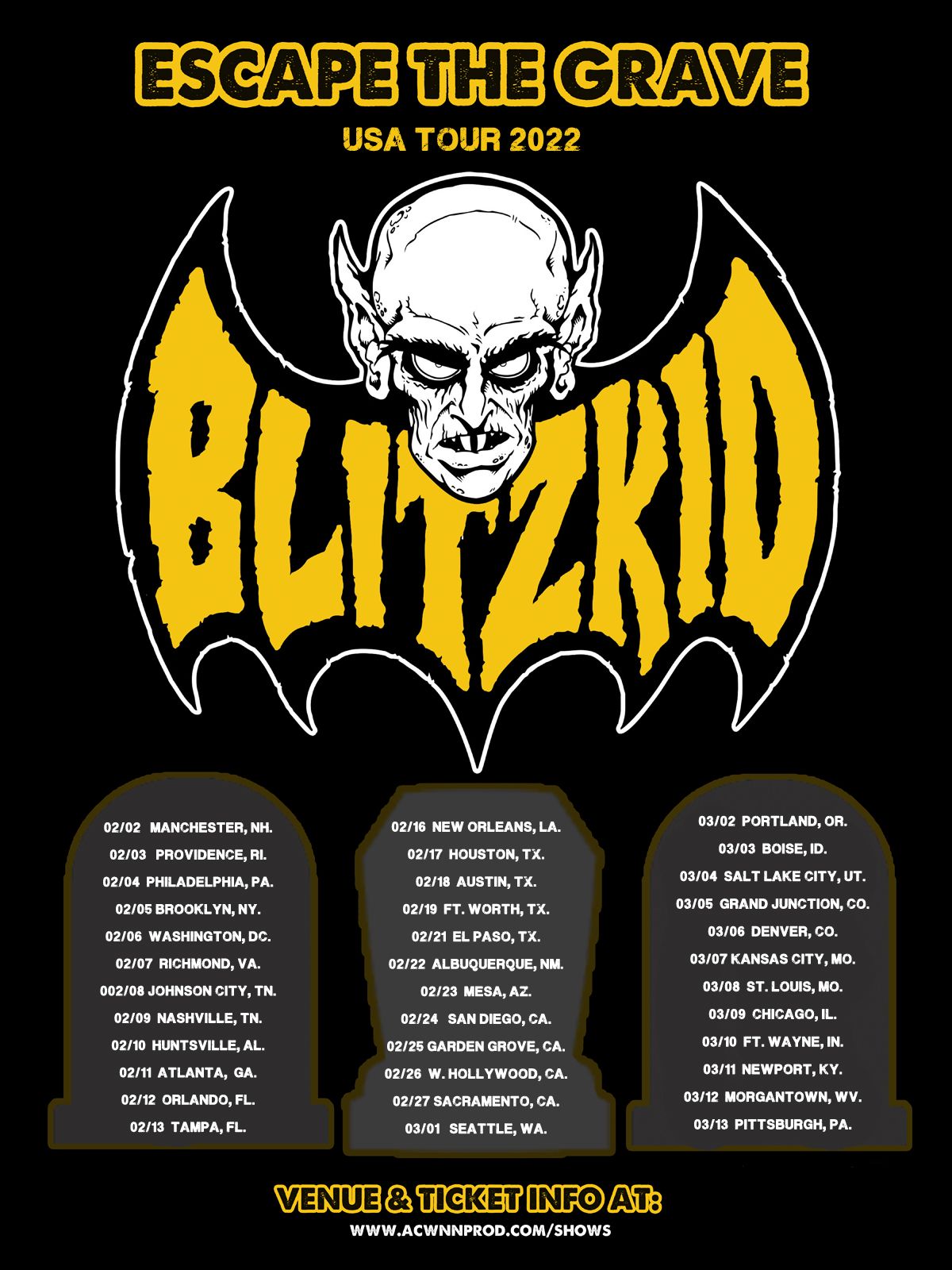 Behold! After a torturous amount of pandemic-induced delays, we are pleased to announce that Blitzkid's ESCAPE THE GRAVE tour will be hitting the road in Feb. 2022! 
Although our original plan was to embark in the fall, we ultimately chose to kick things off a bit later as doing so allowed us to add more cities and shows to the tour.  
Tourdates are listed above- and both general admission- as well as VIP tickets (limited to 50 per show), go on sale 06/18/21 at 10:00 am (local times). 
TICKETS WILL BE ON SALE AT www.acwnnprod.com/shows  or CLICK HERE.  
In some cases, a few of the venues have changed, and a couple of the dates and cities have moved around a bit. Despite these changes, most of the new shows are being handled by the original promoters. If you already bought GA or VIP tickets- they will be honored.  In the few cases that this doesn't apply- a refund will be offered so you can purchase new tickets.   
As of last March, many of the shows were already inching towards sold-out status, and in some cases, VIP packages are already sold out.  So make some moves on Friday, and don't deny us the opportunity to see/hear as many of you as we can out there!  
It's been a brutal year with zero live music experiences, and we want nothing more than to see each of these rooms packed to capacity and roaring with life each night.    
Huge thanks to all of you for your patience and understanding as we worked through the setbacks.  Your support and belief in our music mean everything to us, and we can't wait to finally share it with you live and loud!  Go get your dancin' shoes on and SELL. THIS. MOTHER. OUT.   Long Live the Horror! 
From the Depths, 
Argyle Goolsby & TB Monstrosity 
BLITZKID 
*To everyone attending our Philly show- IT IS STILL ON. The date is most likely changing to be towards the end of the tour, but hang tight for now, and we will announce that date and ticket links as soon as we have confirmation from the venue